May Fair 2017 is on Friday, May 12!
May Fair is a wonderful tradition at Noelani, featuring beautiful performances, exciting activities for all ages, food, fun, laughter, and moments that create memories for a lifetime, so
mark your calendars
and
request
May 12th
off
.
Start your day at the Haku Lei Stand (located just outside of the office) to make sure you get one of the most beautiful haku leis or wristlets you'll ever see. The Haku Stand opens at 7:00am. But be sure to get there early, they sell very quickly.

Then check out the delectable goodies at the Bake Shop, Bentos, and Produce booths, which will stay open until sold out. Be sure to also check out the Silent Auction items in the café. The highlight of the day are always the May Day Student Performances, which will take place from 9:30-10:30. We will continue our celebration with Keiki Games, Activities, and a student Variety Show - all set to begin at 12:00-12:30 and end at 2:00.
This special event is possible because of the donations received and the many volunteers that sign up and pitch in each year.

Below are the volunteer and donation links from last school year. Please check back for updated volunteer links for 2016-17 later in the school year.


Please signup to
VOLUNTEER:
We need volunteers for various shifts and jobs starting 5/8 up to the day of the event 5/12.
Please signup to
VOLUNTEER for your classroom GAME
. (This is different than the volunteering above):
Please signup to
DONATE:
(We need various donations: baked goods, drinks, greenery for Haku, and large fishing coolers and pop-up tents the day of event)
To make a
MONETARY DONATION
using your credit card please click (all donations to Noelani PTA are tax-deductible):
May Fair 2016 SCHEDULE
Friday May 12, 7:00am - 2:00pm

7:00 am Haku, Bake Shop, Silent Auction, Produce booth
open.
8:00 am All
students report to class
.
9:00 am Silent Auction booth
closes temporarily.
9
:30 am May Day Student Performances start
10:30
May Day Program
ends
. Students return to their classrooms.
10:45 Scrips and Silent Auction
reopen
.
11:00 am B-Building Bento Lunches available for pick-up
11:15 am A-Building Bento Lunches available for pick-up
12:00 pm
Let the games begin
! Game booths open,
along with Keiki Korner where the children can redeem scrips for toys, knickknacks, or redeem stamps from the games for prizes. Silent Auction will continue receiving bids on many fantastic items.
12:30 pm Silent Auction closes
12:30 pm 6th Annual Variety Show begins on the stage
2:15 pm School
ends
. Parents sign-out students or students go to A+ or other after-school arrangements.
May Fair Photos
Haku volunteers, Mrs. Arita and Mr. Fukushima, are in full force all week long!):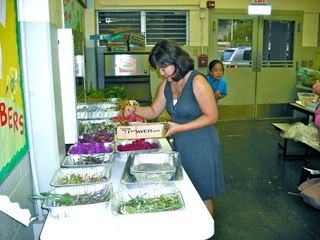 Noelani teacher Mrs. Taguchi picking flowers for her haku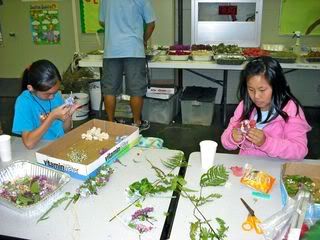 Our students working hard on wristlets
Other volunteers, including retired teachers, come back to volunteer for haku week!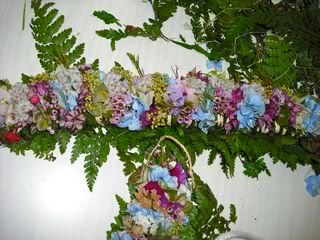 One of the gorgeous haku leis!
Finished with hakus!
Megan made a beautiful wristlet